Safety Technology News
June 2018
Winkhaus blueCompact – now also with time profiles.
THE NEW UPDATE OFFERS A USEFUL FEATURE FOR SMALLER BUSINESSES, CLUBS AND MODERN RESIDENTIAL BUILDINGS.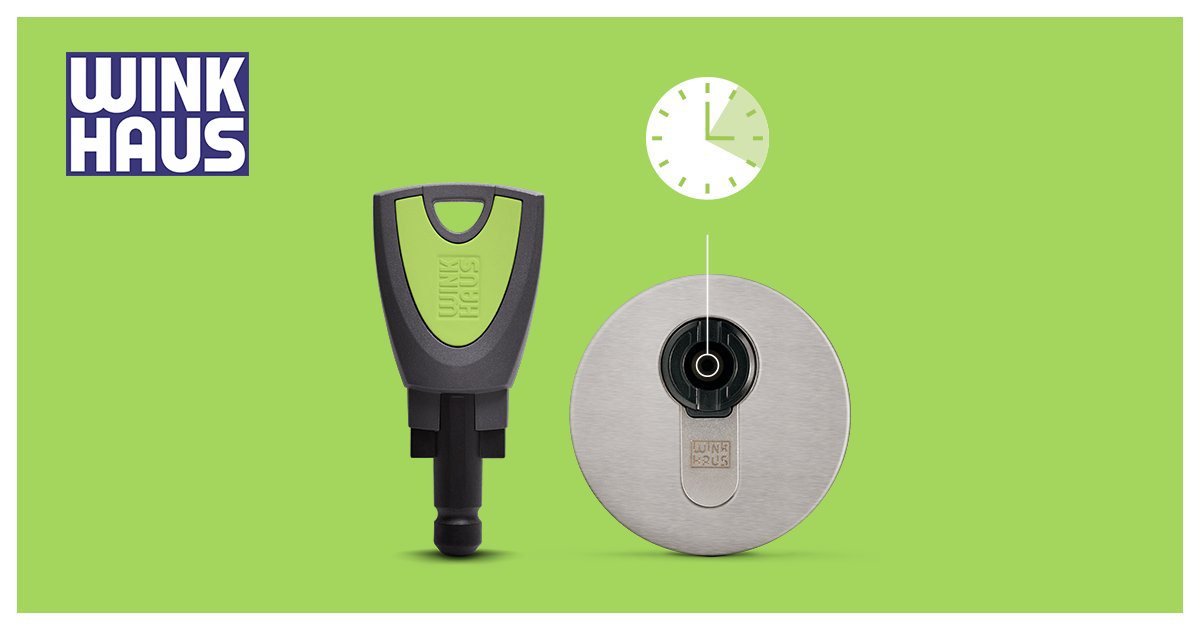 Grant access only for certain days and times or already plan who can access on which day and time.
A new software update from blueCompact from the Winkhaus company makes it possible to check on the next day during the coming holiday at home. This gives users of the blueCompact electronic locking system the benefit of a function previously reserved only for more complex systems.
Existing users can also update their system components by updating the blueCompact App.
GRANTING AUTHORIZATION REMOTELY
At the same time, the assignment of locking authorisations from a distance becomes more convenient. blueCompact users use this function, among other things, during holiday periods: they hand over a blueCompact Aktivschlüssel to a neighbour, for example, which can only close once access authorisation has been granted via verschlüsselter data mail – from anywhere in the world if necessary. The recipient then transfers the authorization from the smartphone to the Aktivschlüssel and can use it from now on für for a previously defined period of time to open the Tür that he has received the authorizations. Previously, this was valid for a maximum period of 14 hours. The new software update of blueCompact now allows to postpone the start of an access authorisation into the future. Moreover, this is now for up to 31 days gültig.
THE BLUECOMPACT APP
EASY. FLEXIBLE. SMART.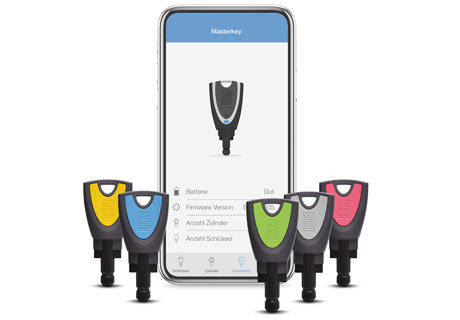 blueCompact offers you:
Simple: operation and administration via app
Fast: Lock lost keys immediately
Control: closely monitor all closing events
Flexible: Grant locking authorisations remotely
Secure: Data is only stored on the key
Intuitive: Each step is explained in video instructions
Uncomplicated: Easy to replace and flexibly expandable
Independent: Create and manage time profiles
One of the following operating systems is required for the app:
Android 5.0 or higher
iOS version 9 or higher
Smartphones must use at least Bluetooth version 4.0.
---
May 2018
MobileKey  – Digital locking solutions for small commercial units up to 20 doors!
HAND IN YOUR KEY NOW.
NEVER BEFORE HAS YOUR START IN THE KEYLESS WORLD BEEN EASIER!
MobileKey replaces the mechanical key with a digital transponder, a PinCode keyboard or your smartphone. You use digital locking cylinders instead of mechanical ones. Without cables and without drilling. Use a free web app to configure the system – your individual locking system is ready!
The DoorMonitoring function reports in real time whether a door is open. Temporary access authorizations can be sent by e-mail. The Key4Friends is valid for up to 6 months and can be renewed as often as desired.
MANY ADVANTAGES PROVIDE THE BEST ARGUMENTS:
Most modern radio keys.
Conventional keys have become obsolete in the MobileKey system. Open your doors with just a transponder, a PinCode keyboard or your smartphone.
Close and more.
You use schedules to determine who has access where and when. On your PC you can then see who entered which rooms and when.
Intuitive web app and programming.
In a few minutes you are familiar with the web app and can configure everything yourself.
Excellent economy.
MobileKey is cost-effective and low-maintenance. It is therefore ideally suited for systems with up to 100 users.
No more trouble about lost keys.
If you have lost your transponder, you can simply lock it and activate a new one. And best of all: you no longer have to replace locks.
Simple installation, easy retooling.
The digital cylinder is simply exchanged for the mechanical door cylinder. It is installed in a few minutes. Without cables, without drilling, without dirt!
Full flexibility through web management.
You can manage MobileKey with any Internet-enabled device from anywhere in the world, create or block users, change authorizations or query the status of doors.
All-round support.
We will be happy to measure your door cylinders, install, set up and manage your locking plan – including programming.
We will be happy to advise you!
Your Zweygart safety technology team